Apr. 11, 2022
At Hengyang Wire Cloth Co., Ltd., we believe that all of us are responsible for taking care of our planet. One easy way to do this is to recycle so that we can re-use products like cardboard, plastic bottles, and aluminum cans.
Most types of metal can be recycled, including the stainless steel mesh that we produce for our clients. When you order from us, we sincerely hope that your stainless steel mesh gives you many years of good use. However, if the day should come where you no longer need the mesh, or if you have pieces left over, then we encourage you to recycle it.
You cannot recycle large quantities of stainless steel mesh by just tossing it in your recycling bin as it if were an aluminum can. Instead, you'll need to call a local scrap dealer and drop it off at their location. On the plus side, stainless steel is valuable, and the scrap dealer may pay you money for it! You might even want to call around if you have a large quantity to see if you can get a better deal from a different dealer.
3 Ways Using Metal Fabrics Can Be Eco-Friendly
When it comes to choosing fabrics and materials for a building, sustainability is something more and more people are focusing on. While there are plenty of material options, metal fabrics are some of the most eco-friendly options available. If you're wondering how using metal fabrics can be more eco-friendly, keep on reading.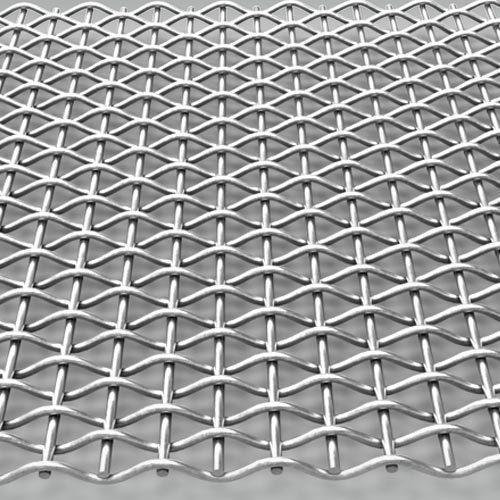 Maintains temperature balance:
In big buildings, it can often be difficult to maintain temperature balance. But when metal fabrics like architectural mesh are used, it's less challenging to keep areas within a building a consistent, comfortable temperature. This is because the architectural mesh can help with the ventilation and filtration of hot and cold air. With the right products, cooled or heated air can flow freely between designated areas, keeping the area a comfortable temperature. This helps reduce the amount of energy the HVAC system has to use to maintain a temperature.
Manages shade and daylight:
With material options like metal mesh walls, building owners can better control how much shade or daylight is let into the building. In areas where shade is needed, these walls can keep both sunlight and unnatural light sources outside of the building. And in areas where daylight is desired, the light can easily enter through the mesh walls. All in all, these materials give more control over light from outside and can help reduce energy use by eliminating the need for artificial lighting in certain areas.
Made from recycled materials:
Today's architectural metals are some of the most sustainable materials on the market. Did you know that the stainless steel used to make metal fabrics are made from more than 60% post-industrial and post-consumer recycled material? By using recycled materials like steel, metal fabrics save energy and construction costs by avoiding having to make new materials. This is a super-easy way to be more sustainable because the material is already eco-friendly.
As you can see, metal fabrics have a lot of sustainable properties. From reducing the need for extra energy use to being sustainable materials from the start, choosing metal fabrics is a great way to be more eco-friendly.
We thank you for considering recycling so that the stainless steel mesh you no longer need can be repurposed. When the time comes for a new order of stainless steel mesh, we are happy to take your call and place your order! Contact us today to learn about all the different varieties of stainless steel mesh that we offer.