Oct. 12, 2021
What is mesh filter?
As you know, a filter is a porous material designed to remove impurities and tramp particles from liquids and gases. In the field of filtration, a variety of materials are used as filter media, such as metal fiber mats and wedge-shaped wires.
Mesh filter is a network of metal wires that creates a flexible filter fabric with precise, rigid pore openings that engineers can customize to fit most filtration systems. In addition, because stainless steel mesh filter is one of the most durable filtration media available, it can be used in applications such as sanitary piping systems to remove contaminants or in applications such as nut filters to extract filter cake.
Why we love stainless steel mesh filter?
Flow rate
One of the most important advantages of stainless steel mesh filter over most filtration media in use today is their ability to provide adequate flow rates. This is possible because the wire diameter and mesh aperture can be customized to perfectly match the contaminants you are filtering out, providing you with a higher level of filter surface area.
This is especially true when using a 3-D stainless steel filter mesh. This is because the 3-D mesh filter offsets the two layers of filter cloth, doubling the achievable flow rate.
Durability
While alloys such as Alloy 310, Inconel 600, Super Duplex, Duplex, Hastelloy C22 and Titanium can be used to build mesh filters, 300 series stainless steel is primarily used. This helps create filters that can withstand a wide range of impurities, pressure changes and temperature extremes without compromising the accuracy of the filter.
Stainless steel consists of iron and at least 11.5% chromium. It usually includes other elements such as carbon, silicon, manganese, and possibly nickel and molybdenum. While iron is strong, it also rusts easily, which makes it difficult to use for a variety of applications. What makes stainless steel so special is that it has rust-resistant properties. Chromium is the magic ingredient that turns ordinary steel into stainless steel. This passivation film helps prevent additional corrosion.
In addition, stainless steel is a very pliable material that allows the filter to be molded to fit your filtration system and retain its shape after many uses.
Accuracy
The weaving process used to construct the mesh filter is closely monitored from start to finish. The result is a filter with precise and uniform orifice openings throughout the filter.
These precise pore openings ensure that the final product, whether filtered material or cake, is consistent and meets industry standards.
Cleanability
Because stainless steel filters have precise pore openings, there is a significant reduction in clogging and blockage. This, combined with higher flow rates, means that stainless steel filters can be easily cleaned by the system operator.
These features allow the stainless steel filters to backflush with minimal pressure and remove any unwanted debris.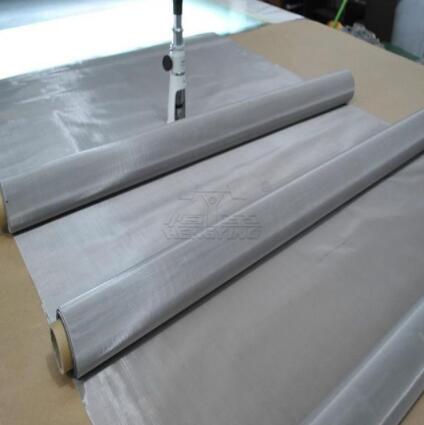 What is the cost of a stainless steel mesh filter?
The price of a stainless steel mesh filter depends on the parameters of the filter. This includes the layer configuration, mesh size and fabrication quantity required to form the desired size and shape of the filter.
In addition, the number of filters obtained plays an important role in the overall price of a stainless steel mesh filter. This is because most stainless steel mesh filters are custom made, which requires several hours to set up the tools needed to build any particular filter.
A good rule of thumb to follow when designing stainless steel mesh filters is that higher purchase quantities will reduce the overall cost.
As mentioned above, stainless steel mesh filters are popular for obvious reasons. Stainless steel is strong and reliable. It is also rust resistant. Many of our customers use our stainless steel filters. They don't want the metal to oxidize and rust over time, especially after being hit by rain or sprinklers.
Do you have more questions about our stainless steel wire mesh or the other different metal alloy options we offer? We would be happy to answer all your questions.