Nov. 01, 2021
As a Shaker Screen Manufacturer, I will share with you.
A vibrating screen, or you could also say a Shale Shaker Screen, is a mechanical screen designed to take out solids or separate them from drilling fluid. It is usually made of stainless steel, polyurethane, or composite frame. It is a spare part of the shale shaker and consists of a stainless steel screw and wedge block to form the shaker frame.
As the name suggests, the design of the shaker is based on the principle of transmitting vibrations to the screening surface in order to separate and sort the different particles by size. Regardless of the design of the machine, the principle is the same: the vibration breaks the surface tension between the particles, which in turn forces them to separate. Undersized particles, called "fines", fall off the screening surface. At the same time, oversized particles are carried across the sieve surface. This is an important application in many industries, especially mineral processing.
Due to their unique design features, vibrating screens offer more specific benefits than other material processing equipment, including improved processing and material quality, lower operating costs, less maintenance and downtime, and higher screening efficiency.
Shale Shaker Screen
The performance of vibrating screens is influenced by these factors.
Material Factors
Particles in dry bulk materials come in a variety of shapes, sizes, surfaces, densities, and moisture contents. Each of these conditions must be considered when attempting to predict screen performance through its effect on the ability to pass a given weight per unit area through a given screen opening. The combined effect of particle shape, surface texture, and surface or internal moisture on sieve performance or "sieve capacity" is beyond the scope of empirical solutions based on size and density alone and is independent of these variables. More definitive information on their effects needs to be obtained from actual laboratory tests.
Size and shape
Individual particles can be angular, spherical, needle-shaped, ellipsoidal, flaky, or plate-shaped. They can be combined in the same material, such as sawdust and wood chips. The sieving point defines the smallest particle size retained on the sieve, and the largest undersized particle passed. It may be defined by its maximum size unless the particles are needle-shaped, plate-shaped, oval, or perfect spheres.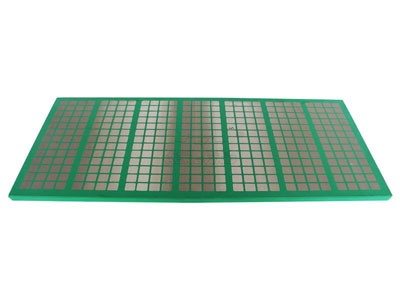 Shale Shaker Screen
Densities
For any given shape and size distribution, the bulk density of any material will be proportional to its specific gravity. Sieving is essentially a volumetric measurement. The actual throughput of materials with different bulk densities must be scaled. Bulk density tables for various materials can be found in most material handling publications.
Particle Size Distribution
The particle size distribution in bulk granular materials is the primary characteristic governing the rate of undersize through the sieve opening and is larger than the smallest particles and smaller than the largest particles in a representative sample of material. The size distribution is measured by sieve analysis using a series of standardized metal mesh sieves with square openings. The particle size distribution is expressed as a percentage by weight of each fraction between consecutive sieves in the series. The actual throughput of materials with different bulk densities must be scaled. Bulk density tables for various materials can be found in most material handling publications.
For more information and help, please contact us.