May. 13, 2022
Shale shaker screens
Shale shaker screens with various types and good filter accuracy are used in oil and drilling industry for drilling fluid shakes.
Shale shaker screen is a kind of screen that installed in shale shakers. It is widely used in oil extraction and drilling operations to filter drilling fluids, oil and mud. Our shale shaker screen is made of two or three layers of stainless steel wire cloths with different meshes. This structure make shaker screen have good filtering accuracy. Different kinds of shale shaker screen has different features and processing accuracy. For example, wave screen has the best processing efficiency. Steel frame screen with steel support can bearing the highest weight of drilling fluid. You can choose the suitable screen depending on the drilling conditions.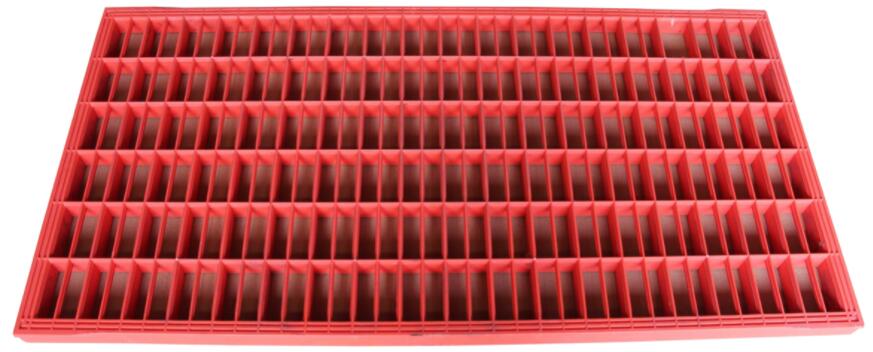 Composite Frame Screen For Swaco
Features:
1. Tensioned mesh surface;
2. High damping capacity resulting in reduced noise;
3. Easy assembling and disassembling;
4. Good resilience leading to a higher bounce frequency of materials and increased screen efficiency;
5. Apertures of screen can be deformed within a certain limit, resulting in a reduced probability of aperture blockage by the material;
6. Screen panels and plates may be framed with different material in the pressure molding process, extending the service life;
7. The shale shaker screen for oil and gas industry can handle large liquid flow rate capacity;
8. Blinding resistance;
9. Durable & long lasting construction in drilling mud projects;
10. Different apertures of screen can be designed per the user's requirements.
Conformed stainless steel shale shaker screens replacement from Hengying
Shale shaker screens are important consumable parts. Screen panel is important to shale shaker. High quality screens will help shaker to get great performance. The accurate cut point prevent certain particles and cuttings to drop down into mud tank affect further process or impact the fluids property.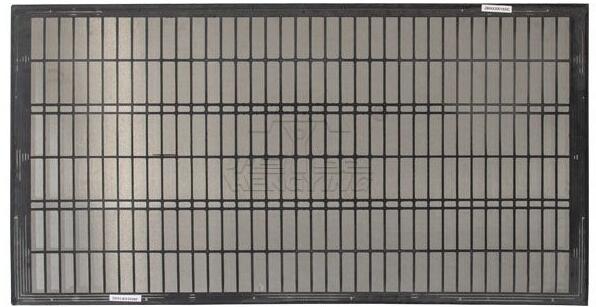 Brandt King Cobra Shale Shaker Screen
Shaker screen life varies because of shaker condition, mud condition, drilling condition, and the operator, etc. That means if the screens were from one batch and holding same mesh size but life lasts different there might be above reasons. For example, we drill an oil well in Kuwait use the OBM the extra thin screen cloth will help to get better penetration or conductance and lead less mud block or mud overflow but the life may be shorter since the fragile wire. When we use screens holding same API size and same configuration at some Yan'an oilfield site use WBM, the screen life will be much longer. Since the general viscosity and mud condition is better than in Kuwait.
Some users find even everything is same, the screen life perform different. Please do check again, the shakers condition, such as the tensioning system, the bed seal, the spring condition, etc.. Besides, the shaker operator professionality is important. Some workers can handle screens professional and easily, but some of them even don't know to clean and put screens in right places after every shut off.
The mud engineers will test drilling fluids time by time. This will tell us how to do further process. They don't check active mud property but also check the disposed mud. They will evaluate whole mud volume and general mud flow situation. The capable mud engineers give the optimal suggestion on mud use and screen use. Finally, we'll get the optimal solution on solids control for whole well drilling and save necessary cost.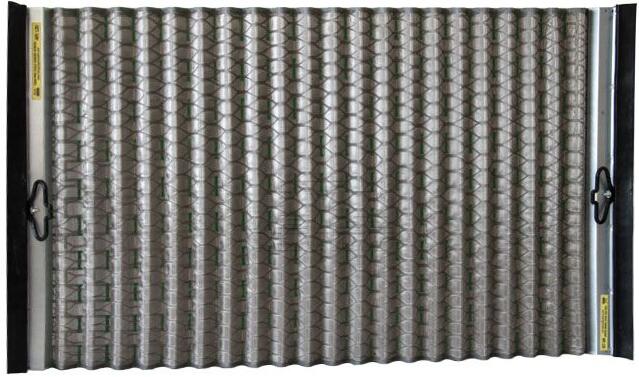 Vibrating Shaker Screen For Derrick 600
Besides the existing model and brands, we are also willing to provide the ODM and OEM screen panels for clients. Tell us your shaker design, the screen panels you may prefer. Combine your demand and our professional suggestion then you'll get the optimal solution on shaker screen. Even the solution on your shaker and system.
Please feel free to contact Hengying for more information on shaker screen panels. No matter you need price, or picture or any question. Just come to us for all solutions of shaker screen.
Below sheet is for your reference to confirm possible demand.
Specifications for General Vibrating and Sifting Shale Shaker
Vibrating 500/2000 shale shaker screen


40mesh/20meshx700x1050
48-30D
80mesh/20meshx700x1050


120mesh/30meshx700x1050


160mesh/40meshx700x1050
40mesh-200mesh stainless steel woven wire cloth for above
Vibrating 500/2000 shale shaker screen


20mesh/12meshx700x1050
48-30D
40mesh/18mesh/12meshx700x1050


100mesh/40mesh/20meshx700x1050


160mesh/60mesh/20meshx700x1050


200mesh/60mesh/20meshx700x1050
20mesh-200mesh ss woven square mesh screen for above
Three tier conglutination screen mesh
40mesh/20mesh/12meshx715x1215
80mesh/40mesh/12meshx715x1215
120mesh/40mesh/20meshx715x1215
180mesh/60mesh/20meshx715x1215
20mesh-200mesh for above
Shale shaker screen
40mesh/12meshx900x1146
80mesh/20meshx900x1146
140mesh/20meshx900x1146
20mesh-160mesh for above
Vibrating sieving mesh
NS-115/2
60mesh/20meshx1150x1000
100mesh/20meshx1150x1000