May. 25, 2022
Stainless Steel Screen

Screen Pipe:
Wire Wrap Screen Pipe
Slotted Liner
Perforated Pipe
Bridge Slotted Screen Pipe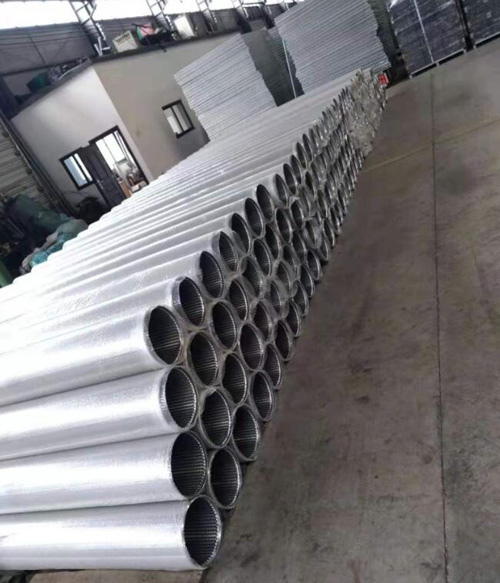 Stainless Steel Well Screen
Wire Wrap Water Screen Pipe
Stainless steel wire wrap screen pipe is the main stainless steel well screen pipe type used in the water well industry, it is welded together by v-shaped wire and support rod through advanced circular resistance welding. This kind of screen tube has the characteristics of firm structure, large opening area, corrosion resistance, nonblocking, and no maintenance.
Slotted Liner
The slotted liner is mainly used to the water and oil reservation layer without much sand. It's function is prevent rock bits dripping into the well bore. The working principle is allowing the certain size and coming through the surface with crude oil but keeping the bigger size sand stopped outside to form sand bridge, and thereby achievement the anti-sand purpose. This type of produce is commonly used to sand rock and catbonate reservoir and especially useable for horizontal wells.
Perforated pipe
Carbon steel perforated pipes manufactured with carbon steel or stainless steel.
We can drill standard or customized hole size in any number and any pattern. Every joint perforated by us is deburred internal and external. Every hole is visually inspected and cleaned of burr material.
Bridge Slotted Screen pipe
Bridge Slotted Screen pipe is a new product which is composed of central tube, precise punched slotted screen jacket and stainless steel ring. It has characteristics such as exquisite controlled hole, high percentage of open area, strong integral strength, resistant to deformation to corrosion and high reliability etc.
Product Specification
1. Slot size(mm): 0.01~3mm
2. Open area: up to 60%
3. Material: low carbon, low carbon galvanized steel (LCG) steel treated with anticorrosion coating, stainless steel (304, 316L etc)
4. Unit Length up to 6 meters
5. Diameter: ranging from 25 to 800mm
6. End connection: plain beveled ends for butt welding or threaded coupling or flange.
Screen Size
Inner Diameter
Outer Diameter
OD of Female Threaded End
in
mm
in
mm
in
mm
in
mm
2
51
2
51
25/8
67
23/4
70
3
76
3
76
35/8
92
33/4
95
4
102
4
102
45/8
117
43/4
121
5
127
5
127
55/8
143
53/4
146
6
152
6
152
65/8
168
7
178
8
203
8
203
85/8
219
91/4
235
10
254
10
254
103/4
273
113/8
289
12
305
12
305
123/4
324
133/8
340
14
356
13 1/8
333
14
356
----
----
16
406
15
381
16
406
----
----
20
508
18 3/4
476
20
508
----
----
| | | | | | | | | |
| --- | --- | --- | --- | --- | --- | --- | --- | --- |
| Profile Wire | | | | | | | | |
| Width (mm) | 1.5 | 1.5 | 2.3 | 2.3 | 1.8 | 3.0 | 3.7 | 3.3 |
| Height(mm) | 2.2 | 2.5 | 2.7 | 3.6 | 4.3 | 4.7 | 5.6 | 6.3 |
Support Wire
Round Wire ●
Width(mm)
2.3
2.3
3.0
3.7
3.3
Ø2.5mm-Ø5mm
Height (mm)
2.7
3.6
4.7
5.6
6.3